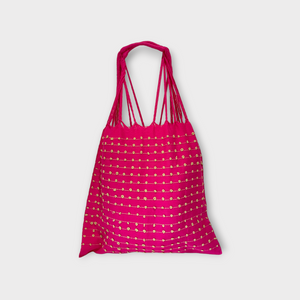 Mexican Hammock tote bag
Smal dotted bag with braided handles.

Handwoven in a traditional back strap loom. These bags made with love on a fairtrade baseis and are durable and very sturdy. The handles are braided and handwoven on the top. 
Can be used for shopping , beach, school or just as a fashion statement.
Details:

Origin: Chiapas, Mexico
37 x 41 cm/ 14.5 x 16 inch
Ships worldwide.
Fairtrade product: By buying this item you are helping keep the Mexican tradition alive.