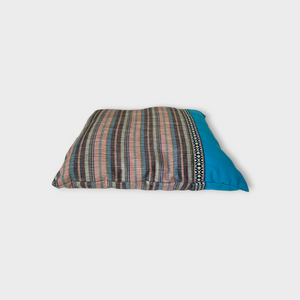 Kantarines throw pillow *Turquoise/pink
This 'Inabel' pillow was handwoven following an intricate process. From preparing and dyeing the yarn, arranging them to produce the desired design and operating the wooden handloom with the synchronized movement of both hands, using techniques passed on through generations. 
Details:
Origin: Philippines 
Pillow is stuffed with pollyfill cotton

30 x 33 cm/ 12 x 13 inch
100% natural cotton
Ships worldwide.
Fairtrade: By buying this item you are helping keep the Inabel tradition alive.