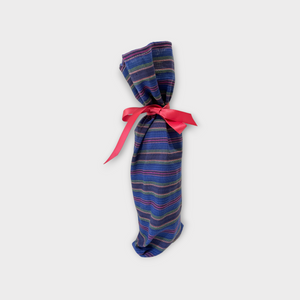 Bottle gift bag made from Inabel fabric
Exclusive bottle gift bag, made from handwoven Inabel fabric.
Abel weaving is one of the few surviving traditional crafts in Ilocos Sur, Philipines
This bag was handwoven following an intricate process. From preparing and dyeing the yarn, arranging them to produce the desired design and operating the wooden handloom with the synchronized movement of both hands, using techniques passed on through generations.
Details: 

Origin: Philipinnes
Patterns may vary.
Can be washed in machine on delicate program.
Ships worldwide.
Fairtrade product: By buying this item you are helping keep the inabel tradition alive.